Caleb and I were discussing yesterday getting away sometime this fall and going to a hotel to just focus on us and no homework or side projects. I was trying to think of a cool way to save for it. And then I thought of my change jar. I put all of my pocket change in it and also extra cash that I get. Right now it's at over 40 bucks, and I just looked up a room rate at Land's End for this winter. $79 for the cheapest room. Over halfway there, and I think it's doable and a great motivating goal!
Tuesday night we took Naea to Sourdough Express for her birthday. It was a lot of fun and good meal. Wednesday, Drew came over for a while and then we went to small group where we played games. Then we went to the in law's house and
my
"new" niece, Kyla, was there on a visit. She's 2 and a half years old! So insane. Christopher was also down. It's always fun to see him. We hung out there until midnight and then went home.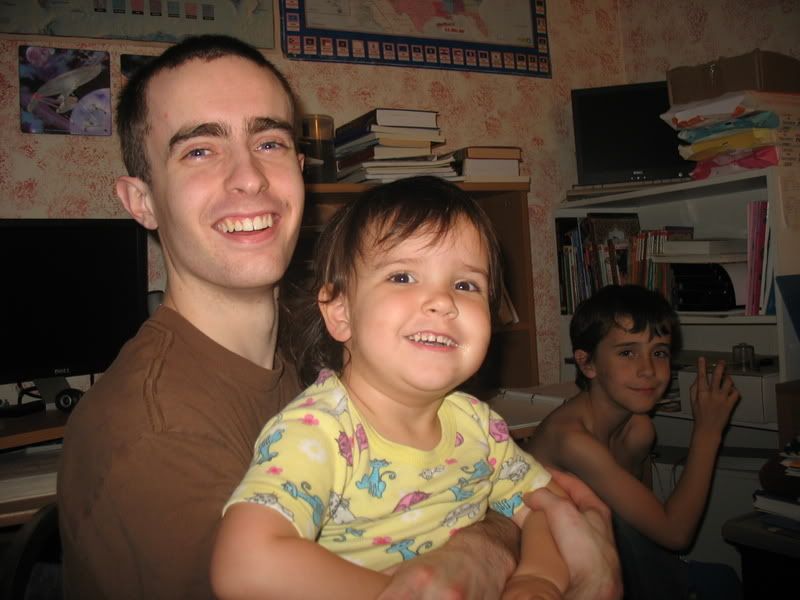 Caleb with Kyla. This was the best picture I could get of her. She wouldn't smile for me, but I finally caught one.

Tonight we took Caleb's car to my boss's husband's shop to look at. It has been squealing non stop (no the fan belt does NOT need to be tightened) Dave tweaked some thing that was bent and it stopped the squealing. Caleb's not sure it will stay fixed, but it's nice to have a little relief!
My new computer is great. I'm loving having it. It's nice to have something I can rely on and also have a lot of workspace!
Caleb got a funny idea a few months back to match our "outfits" when we go to small group. I didn't really think anyone would notice, but Lori keeps seeing it :P So I decided we should start capturing the different combinations. Here's installment one. (Yes, we realize we are weird)